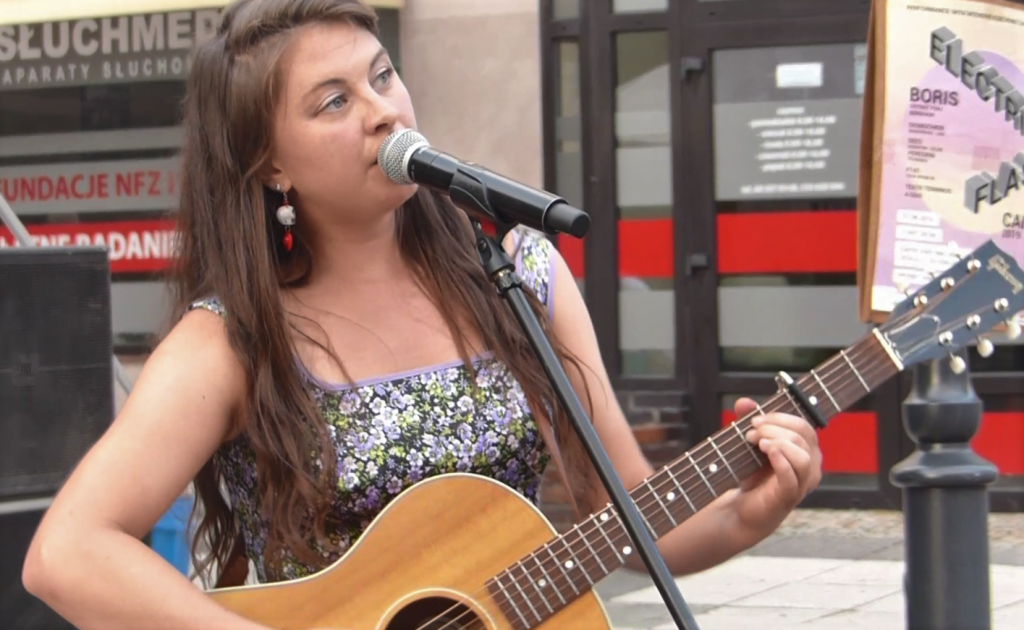 An interview with a singer, songwriter and musician Ruby Jean Rose about writing songs and performing in the street.
I've been obsessed with writing since I was a kid so I always had a notebook full of writing on me. I was the only one in the room with lyrics so they told me to sing and I fell in love with it from there.

Ruby Jean Rose
Hi Ruby, how are you? I know that you are about to release your new EP. Tell me more about it!
Hi Margarita! I'm doing well and it's wonderful to hear from you, I'm so sad I missed you in Poland this year. I am indeed about to release a new EP, You're Not Alone Never, with the first single due to be released December 11th.
What is your background and what was your path of becoming a musician?
I started playing cello when I was eight in my school orchestra and taught myself guitar when I was eleven. I joined my first band shortly after moving to the UK. I've been obsessed with writing since I was a kid so I always had a notebook full of writing on me. I was the only one in the room with lyrics so they told me to sing and I fell in love with it from there.
Your father is a director and your mother is an actress? Have you ever tried acting?
I acted in a few of my Dad's films as a child and was part of a theatre group before I got into music. I feel that's what sparked my love for being on stage.
I tend to write what I see, feel and believe
What is your songwriting process?
I always find this question difficult. For me, it's different every time but I certainly have a method. I tend to write lyrics first and try to picture a story format, even if it's an emotion. Once I create an ark, I often re-write a few times before laying it over music. But sometimes, it all just falls out of me and I have no idea where it came from.
My previous guest The Human Computers said that he writes personal songs, and he wishes his listeners try to understand his songs and their meaning. What are the stories behind your songs? What message do you have for your audience?
I tend to write what I see, feel and believe. It's hard for me to say if I'm trying to deliver a message, I feel more like I'm keeping a record.
Marketers create a buyer persona to better target their ideal customer. When you write songs do you think about people who may listen to your album? Who are your songs for and what emotions do you want people to feel when they listen to your music?
I think it's smart to meet people halfway. I would never recommend writing to please an audience but to completely disregard them I think is foolish. So I always try to write and learn songs that I love and so would you. I love the connection you can get, like there's some kind of undeniable trust in this room full of strangers.

Ruby Jean Rose
You have written political songs like "Ain't Gonna Break". What are the most important global problems? What changes would you like to see in both politics or in microscale like things all of us can do to make a difference?
Like all of us, I just want to live in a peaceful world that's fair to everyone. There's a lot of serious issues of equal importance happening simultaneously. I think that can feel overwhelming a lot of the time. Government is very disconnected to the rest of society and I feel that's where a lot of our problems lie. It's hard to give short answers to this question as everything is so complicated these days. I'd just say aim to try and make one thing better for everyone. I think that's something we should try and do with our time.
Do you always write songs from personal experience or do you sometimes write fictional lyrics?
I like to do both,
I write about my own experiences a lot but I like to tell stories over all. Sometimes it's fun to put yourself in someone else's shoes.

Ruby Jean Rose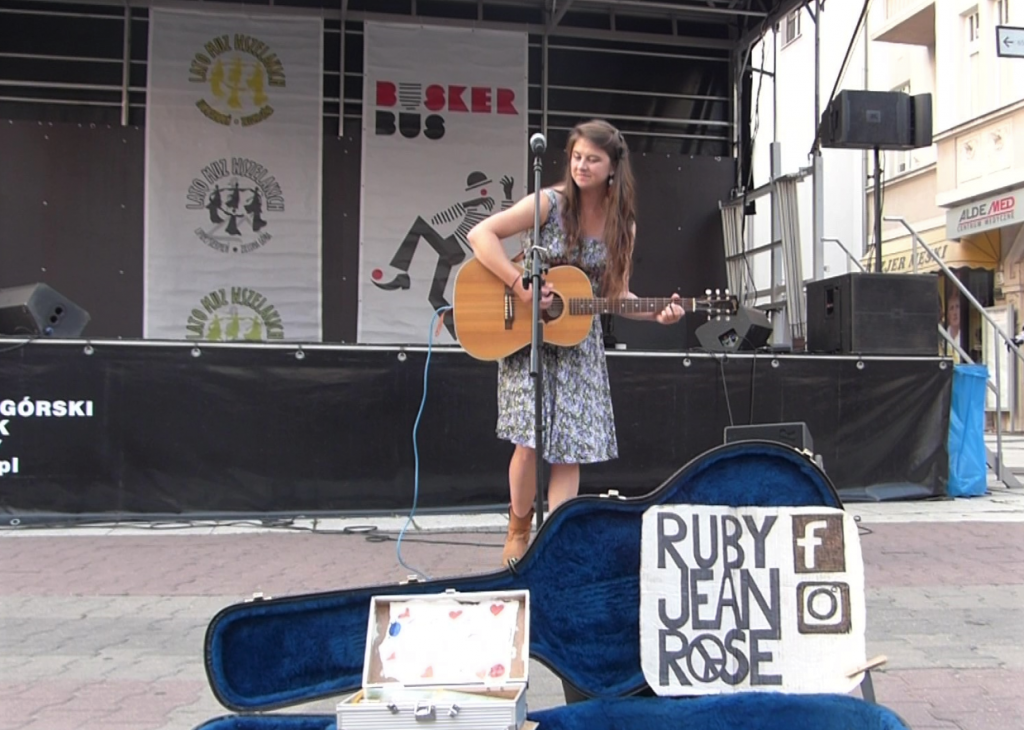 Have you ever written songs for other musicians? If you could write a song for any artists in the world, who would that be?
I have indeed! I actually wrote some lyrics for a singer in Poland before moving to Berlin. I've also written songs for a couple Berlin artists too. I really enjoy the process and would love to do more.
Which of your songs defines you best as an artist?
That's a hard question, probably the most recent song I've written. The last thing I wrote is probably the best representation of where I'm at right now. But I really think I started to settle into my sound after I wrote Only Lonely.
How do you choose the songs that are on your albums? Do you usually know from the beginning which ones should be there or is it a difficult process of selection?
I usually record every song that could possibly go on there into my phone and then pick 10 that go together. I'll then spend as much time as possible getting them arranged as I'd want them to be before they're ready to record. I may cut more or add more depending on what happens in the studio.
Now when I know more about your music, it's time to ask you about your favourite artists. What are in your opinion: the best songs ever written, the best record and the best album of all time?
I find these questions impossible, for me it changes every week! I draw influence from a lot of different places so I listen to a wide variety of music. I do have a few records stay with me forever though. PJ Harvey's Uh Huh Her, I think has inspired me since I started songwriting as a teenager. I've also loved Leonard Cohen since I was a kid, his lyrics are pure poetry. Basically any record of his is great but my top three are New Skin for the Old Ceremony, Songs From a Room & I'm Your Man. Patsy Cline would be another huge idol of mine, I'd love to be able to sing like her.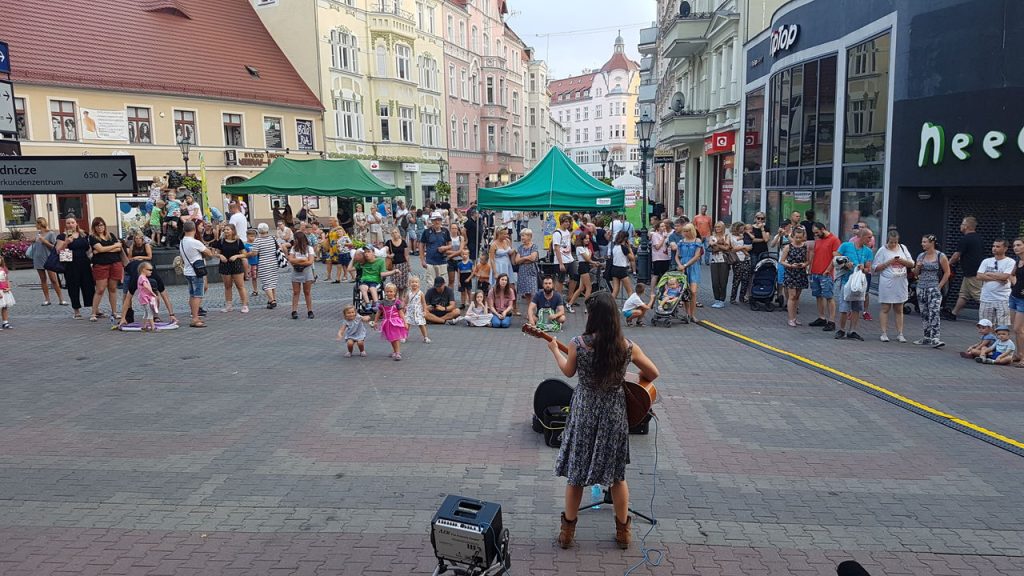 What is your busking experience and why do you perform in the street?
That's another long story! I basically fell on hard times 4 years ago and busking was the only way out.
What I found was so much more than just a means to survive but a whole lifestyle. Being able to perform to people face to face in such a raw setting was a connection I'd never experienced with my audiences before.

Ruby Jean Rose
I fell in love with the scene pretty quickly and it became all I did everyday. I started to figure out that you could use it to travel and I began touring to any place I could with both stage shows and playing on the street.
What have you learnt over the years about performing in the street?
People are more good than bad. You'll see more nice things and people helping you than not. It's not to say, I haven't had bad experiences out there but I was always humbled by the fact that they were seriously outnumbered, even as time went by. In a weird way, that taught me that it's okay to ask for help.

Ruby Jean Rose
What has been the most terrifying moment in a street performance to date?
On the absolute flipside of what I just said, I have had a few scary moments on the street. There are unfortunately some people who will get aggressive. If I go busking these days (and in a non – pandemic world) I just make sure I go with a friend. People are mostly lovely or will ignore you but of course, don't get careless.
Do you feel discouraged when no one stops and reacts to your music or is it a part of busking?
It's not the best but it doesn't discourage me. You develop a thick skin after performing on the streets for a while. There are just good days and bad days, like any job.
You travel a lot. What are your favourite and the most challenging places to busk?
This is another tough one for me. I love most places I go and everywhere has an individual experience for me. Berlin will always have my heart as that's where I started busking and Poland of course! Sweden was difficult as they're completely cashless, another thing I feel we're going to have to adapt to. But I'm looking forward to busking more in the UK when things get better.
What artists make you stop and stay in the street?
I always enjoy watching other musicians, it always teaches me something. I also love watching the circus acts. I feel they can be the most resourceful when it comes to making the street your performance space.
Who are your favourite buskers/best shows you have ever seen?
Honestly anyone who can pull off a successful street show, blows my mind.
You have been involved in Berlin Street Music. What are the current regulations and what do you want to achieve? How is it going so far?
I've been a member for the last two years, attending meetings, lobbying in Parliament and running their social media pages. For those who don't know, they're a government initiative that defends the rights of street art and culture in Berlin. I haven't been involved as much as I was since relocating to the UK but there has been some progress with the Senate. As busking isn't entirely legal in Berlin, the scene is under constant threat. The aim is to develop a system that favours both the performers and the residents in the local area.
Should busking, in general, be regulated? Do you know any good examples of regulations or best practises from any place in the world?
I would like to say no but sometimes, things can get messy. I've seen some interesting things in other countries such as apps or websites to book performance slots ahead of time. It's hard to say what really works, I also feel it can work really well when we can negotiate ourselves. What I definitely don't want is for busking to disappear, however I think we'll always adapt.
What kind of advice could you give to young artists like you?
Practice, record and play as much as you can. Make sure you fall in love with the process and you'll never be disappointed.
As it seems that live shows in most of the places won't be possible for a while, how can people help their favourite musicians?
Stream their music, buy their merch, buy their records, sign up to their Patreon accounts, donate, or even collaborate.
What are your plans and what can I wish for you?
I'm about to release an EP and I intend to start recording an album next year. Soon as I can get back on stage, I will most definitely be there. Wish for us all to pull through these uncertain times stronger than before.
Thank you, Ruby! Can't wait to listen to your new EP! All the best and hopefully see you in Poland next year!
About Ruby Jean Rose
Ruby Jean Rose is a singer/songwriter & musician. She was born in Los Angeles but moved to the UK when she was 12 years old. It was then that she started songwriting and performing live. After she left school she started working as a live sound engineer and organising concerts but she knew her place was on stage making the noise. This was when she decided to move to Berlin to push herself as an artist and performer.
After four years of being a street performer based in Berlin, touring Europe and the US she has now returned to Brighton where she plans to release her next EP "You're Not Alone Never".
Ruby Jean Rose has recorded an album and single with Simon Rompani & Keith Clarke "Ain't Gonna Break" & "Shiver and two EPs: "Putt Putt" & "Hacksaw" with David Stewart Ingleton & Tomas Peralta. In 2019 she composed instrumental pieces on her first instrument, the cello, for short films.
Follow Ruby Jean Rose
Website: https://www.rubyjeanrose.com/