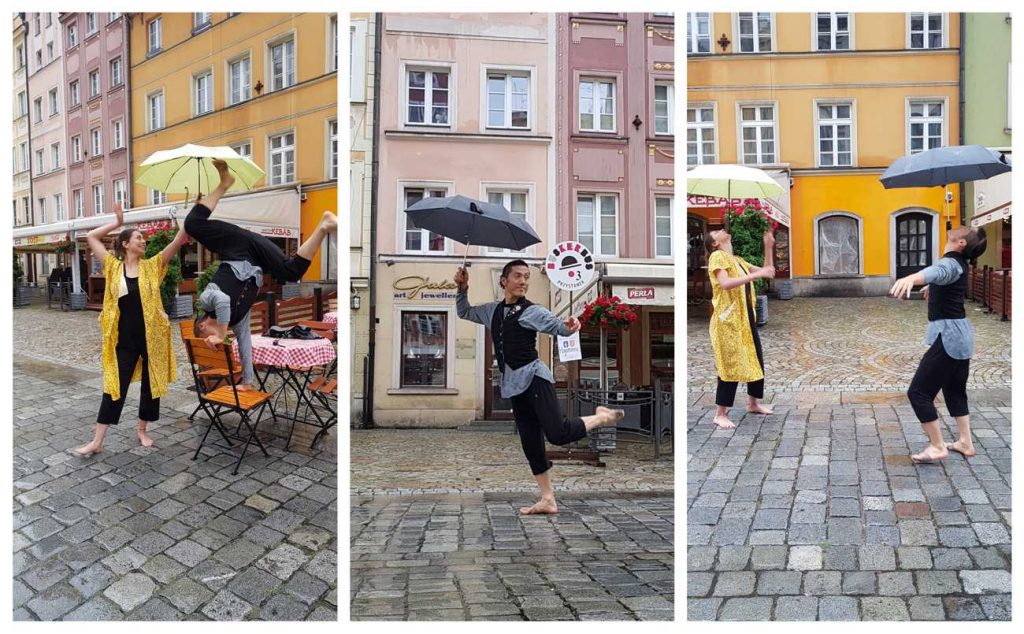 A while ago Hayatonnu… (Hayato Yamaguchi) sent me a festival application written in broken English, and his website looked like it was created in the 90s. Everything was so different from all the flashy promos and copy-pasted lines from other buskers. Some artists are not good at selling themselves, but they still leave the impression that they must be great at what they do.
Hayato is a dancer who treats the audience, organisers and other artists with great respect. He shares his art with anyone who wants to see him. Regardless of the weather conditions and how many people came to his show.
The number of people is not important to me. What matters is connecting with them. During my show, I express myself, I show who I really am. Even if only one person identifies with me, I am happy.

Hayatonnu…
What is your background? Have you always known that you wanted to dance?
I started learning to dance quite late. I have been interested in sports since childhood. I have trained in baseball, golf and kendo. I was very good at every sport. I am lucky that my body has always dealt well with great effort, and I was able to develop in any sport. To this day, kendo is especially close to me.
When I turned 18, I suddenly started singing as a member of a cover band. I've always loved performing in front of people. That is how my adventure with the music business began.
Then I focused on dancing.
When was the first time you thought of yourself as a dancer?
When I was 21, I expressed my deeply hidden emotions while dancing during my dance classes. It was a turning point for me.
Why did you choose to move to Germany?
In 2007, I went with a dance group from Japan on tour to Germany, Spain and Hungary. I met a dancer from Japan who was working in Germany. He inspired me so much that four years later, I decided to take a similar step myself. It was a huge challenge for me. I wouldn't have taken it if I was not inspired by this meeting. I have great respect for this person.
Who inspires you?
Currently AURORA (Aurora Aksnes). She is a singer and songwriter from Norway. She is an amazing artist. She motivates me to be not only a better artist but also a person.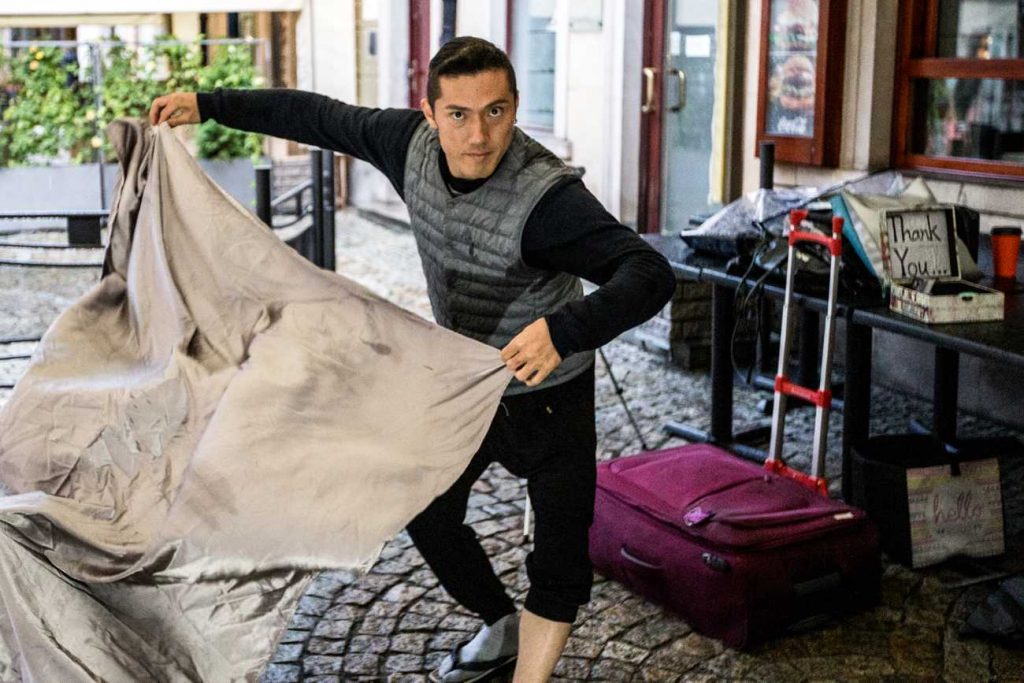 How did your adventure with busking start?
For many years as a dancer, I only performed on stages. When I was 27, I moved in with my friend who was performing on the street as a magician. He inspired me and made me want to try busking. At that time, I didn't know any dancers performing in the street, so I had no one to follow. I tried to create my own programme. Initially, I didn't focus on any particular style. I was doing what I felt at the moment. I have to admit it didn't work at all. After some time I started to learn hand balance.
What tips do you have for other artists?
I'm not sure if I can call myself a busker. I always say I'm more of a street artist. My problem is that I don't want to say any "hat lines". I hate it so much.

Hayatonnu….
The great performer Ian Deadly once told me that I'm an idiot for not doing this.
What does a "good show" mean to you?
The number of people is not important to me. What matters is connecting with them. During my show, I express myself and I show who I really am. I don't lie. I am not an actor. Even if only one person identifies with me, I am happy.
Do you also perform in the street outside of festivals?
I'm not good at building the crowd so I prefer to go to festivals. People are ready to see my show, they are waiting for me. It is a comfortable situation for me.
When I busk outside of festivals, I try to adapt to space, atmosphere and people. The emotions associated with it are stronger than during the shows at festivals.
You are one of the few people who perform even in the rain.
As a dancer, I mainly perform on stages, indoors. When I perform outdoors, I intentionally try to change my attitude, and that also means adapting to the weather. As long as I have someone to perform for, I do it even in the rain. Even if we are only talking about a few people, I am happy to do it because I love them. Of course, I always try to make sure that my equipment is safe. Once these issues are resolved, I'm ready to perform.
What does your creative process look like? Do you modify your "Eternal Longing" show often?
I am constantly trying to develop my skills, so every year I change the part called "Letter", which I present at the end. The main idea of the programme has not changed from the beginning. I miss my loved ones and can't wait to see them again. Especially my daughter. It does not change and it will not change. "Eternal Longing" is my personal, emotional journey. I would like to create a show that will have more positive energy. I don't know if I can do it, but I feel it is needed, especially due to the current difficult situation.
Do you have your favourite buskers?
Gamarjobat – a comedy duo from Japan. They are legends among Japanese street performers. Is there anyone who doesn't like their humour? Their show is barrier-free. Everyone, no matter what part of the world they come from, is having fun. It is beautiful.
Kerol – a juggler and a beatboxer from Spain. He makes passers-by stop with his great sense of humour. Moments later, he shows off his amazing technique. His routines inspire me. Kerol invites us to his world. When I perform, I also try to introduce the audience to my world.
Mariusz Goli – a Polish guitarist. He so easily changes the atmosphere in cities. His music makes me move my soul and body. I am honoured to have had the chance to perform with him many times.
What are you currently working on?
Due to the current situation and closed theatres, I don't have many jobs as a dancer. Hmm, can I leave the link?
I am currently working as a teacher in various dance schools. I also often conduct workshops and I am a choreographer. Here is an example: https://www.tanzmoto.com/events/dance-mix-akrobatik-hip-hop-jazz
When I have time, I also busk.
What are your plans? What can I wish for you?
Of course, I would like to develop as a dancer. I am also interested in being a physical education teacher. If I choose this route, I will return to Japan. I am sure that thanks to the experience gained during nine years of living and working abroad, I can contribute a lot to the education of children in my home country.
I keep my fingers crossed and hope we will soon share the ideas that we recently discussed. Finally, my favourite question: what song do you dance to when no one is looking?
Aurora — Exist For Love. I believe love exists in all of us, even in difficult times. Together with my students, we choreographed this song. Dancing is such a great way to share something with others. I love it!
About Hayatonuu…
Hayatonuu… is a dancer and choreographer from Japan who has been working in Germany for several years. He was associated with numerous dance groups and theatres (including Austrian Ballet Company, Nomde ~ s, Theater Bomm. Theater Dortmund, Dance Compagnie Fredeweß, Deutsche Oper am Rhein, TANZ theatre INTERNATIONAL 2015, Dance Theater Luxembourg, Theater Rites, Tanzmoto. He regularly performs at street art festivals, where he presents his original show "Eternal Longing".
Follow Hayato: