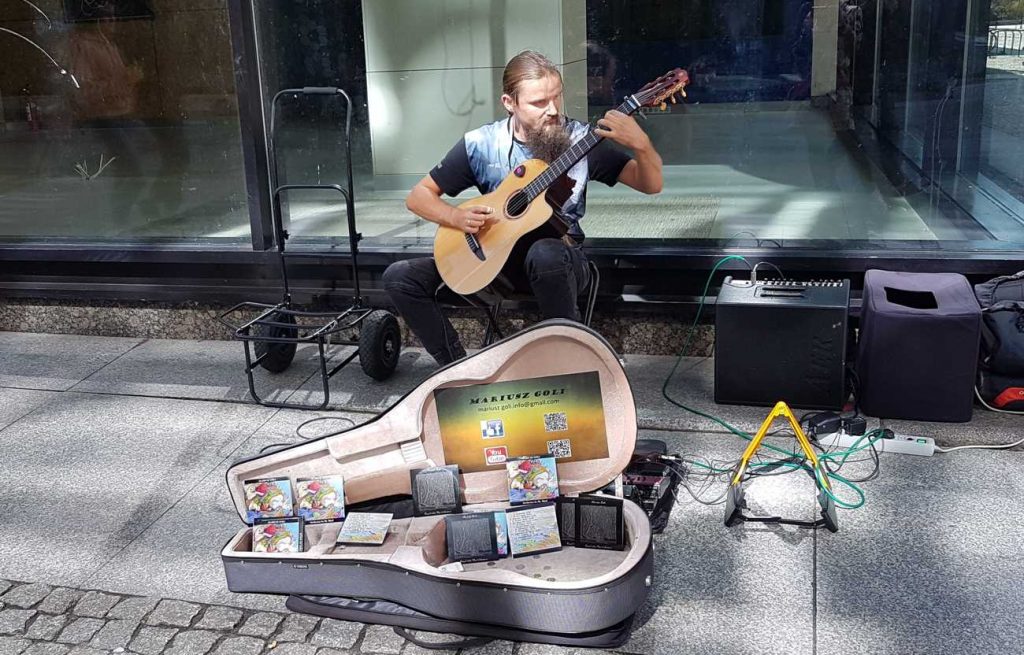 Mariusz Goli is a guitarist, composer and busker. He regularly performs in big cities and small towns. He loves improvising and often creates his pieces in the street.
As a musician, I try to enchant people with the sound, melody, and different approach to playing the instrument. Human curiosity and willingness to detach from reality temporarily do the rest

Mariusz Goli
How did your musical journey start?
When I was about 13, my brother brought a guitar home. I fell in love with it immediately.
What was the first song you learned to play?
The first song that I learned to play was my piece. At that time, I didn't have access to any books with chords, so I tried to get to know the guitar by myself. I started playing simple melodies and chords that sometimes turned into songs.
Did you decide to study music later on, or did you feel that you no longer needed it?
I am continually learning different techniques of playing and composing songs, mainly by listening to other artists. I have always liked to follow my path.
When did you think of yourself as a musician?
I think when I started busking regularly. It has become my passion and my way of life. I started writing more of my songs, arranging covers of music from my favourite movies, etc.
What inspires you?
Due to the nature of my work and frequent travels, I draw inspiration from practically everything I come across.
What is your creative process? Are you a person who likes to do everything himself?
I create most of my guitar pieces in the street through improvisation. A lot depends on inspirations, on a specific moment. I prefer to do everything by myself, even if it takes longer.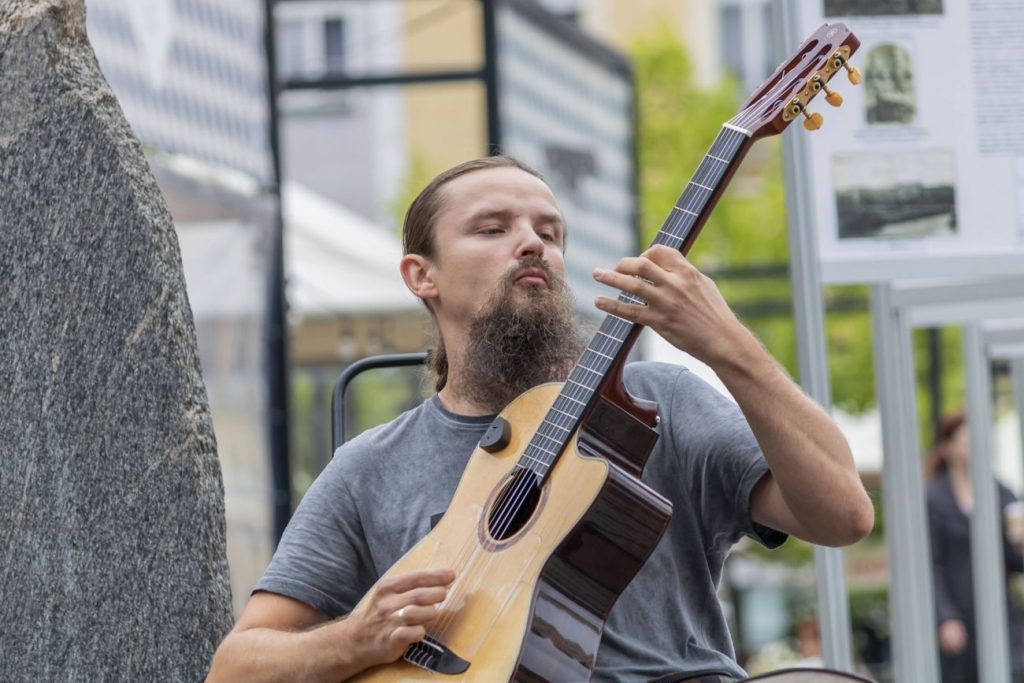 You wrote a song for your wife. Is she the first person who listens to your new music?
It happens quite often that I look for a long time for a musical solution when composing and my wife Anna comes with an answer. Her intuition and good advice can put me on the right track, so I can say that she is my first reviewer, a strict critic and my inspiration. I wrote the symphonic piece "For Anna" to give her something unique and indestructible for her birthday. Something she could come back to after many years that would bring pleasant memories.
Can you tell me more about your life on the road? Most of the buskers perform only in the biggest Polish cities; you also visit smaller towns. In how many places have you busked so far and which are your favourite ones?
I think it will be about a hundred places, so still not so many. I enjoy Wroclaw, Toruń, and the city where I was born – Poznań. There are also many different smaller, charming towns where I like to come back.
I travel by car, and I often stay with friends or look for some quiet hostels or private accommodation where I can rest after a busy day. I am glad that this lifestyle allows me to get to know many beautiful places that I might not have gone to otherwise.
What does being a busker mean to you?
Busking is a synonym of freedom. I love travelling and changing places frequently. Since I can remember, I have never enjoyed staying in the same place for a long time. When I was a kid, my parents used to move a lot, and I was always excited about it.

Mariusz Goli
Our life consists of many many moments that we memorize to have something to look back in the future, so we should do as many interesting things as possible, visit and get to know new places.
How do you build your crowd in the street?
As a musician, I try to enchant people with the sound, melody, and different approach to playing the instrument. Human curiosity and willingness to detach from reality temporarily do the rest
What personality traits should a street performer have? What advice do you have for buskers?
First of all, a street performer should be polite towards the audience and other artists. Some buskers forget about it.

Mariusz Goli
What do you think about street festivals? Are they necessary?
Street festivals are an essential part of city cultural life. In some places, it's not possible to get a permit to perform in the street outside such events and often it's the only opportunity for a direct meeting of artists and their audience there.
Should busking be regulated? What's the best system?
In my opinion, street artists should be able to present their performances freely, however in reasonable hours and having residents in mind (for example not to play at midnight in front of the old building in the Market Square in Wroclaw).
All legal regulations (permits, etc.) deprive busking of the most crucial element – freedom.
What kind of street performers do you like to watch? Who are the buskers that impressed you the most?
Since I love instrumental music, I most often stop when I see guitarists, violinists, pipers, pianists etc.
Who impressed me? Among others, Estas Tonne, Miguel Montalban (I met him at the guitar festival in Agadir in Morocco, where I also had the opportunity to perform). Gienek Loska always moved me with his loud vocals when I was meeting him in Krakow or Warsaw streets.
There are many other buskers, who played without a card, so I don't know their names, but who had "that something".
What equipment do you use in the street?
Ortega guitars and Aer Domino II and Ortega H ONE amplifiers.
Some musicians don't like when people upload videos of their performances (and sometimes even block them). There are many videos of your street concerts on the internet. What is your approach to this? Do you watch all the videos that people upload?
I don't mind when people publish videos of my performances on the internet. I play in the street, in a public place, so I become a part of it.

Mariusz Goli
I enjoy watching videos and remembering those moments (the more we remember, the longer life seems to be).
My fans often send me videos they recorded, and I'm very grateful for that.
The best album in the history of music?
"Friday Night In San Francisco" by Al Di Meola, Paco de Lucia and John McLaughlin. Excellent guitar trio – real music geniuses. But besides this one, there are a lot of albums that I could choose.
What do you listen to when you drive your car?
It depends on the day. I usually listen to a lot of film scores, classical music, and classical guitar music. I also often play my favourite bands from my youth, such as Black Sabbath, Deep Purple, Led Zeppelin, Metallica, Dream Theater, Iron Maiden, Judas Priest, Death and the list goes on.
What are you currently working on? What are your plans?
I am currently working on music for a computer game, but I cannot reveal its name yet. Whenever possible, I also write more songs for my next guitar album.
I am looking forward to listening to your new music. Thank you for the interview and see you in the street!
About Mariusz Goli
Mariusz Goli is a guitarist and composer born in Poznań (Poland). He had his first contact with the guitar at the age of 13. He regularly goes on tours in Polish cities. He plays in clubs, at festivals and in the street. In his compositions, he uses elements of flamenco music, as well as folk music. He is still looking for his own style of playing and discovers new techniques. He has released the albums "Orchestra In My Mind" and "Road Into The Unknown". He composed the music for the movie "I'll Find You", the computer game "The Wizards – Dark Times". He is currently working on music for another computer game.
Follow Mariusz Goli