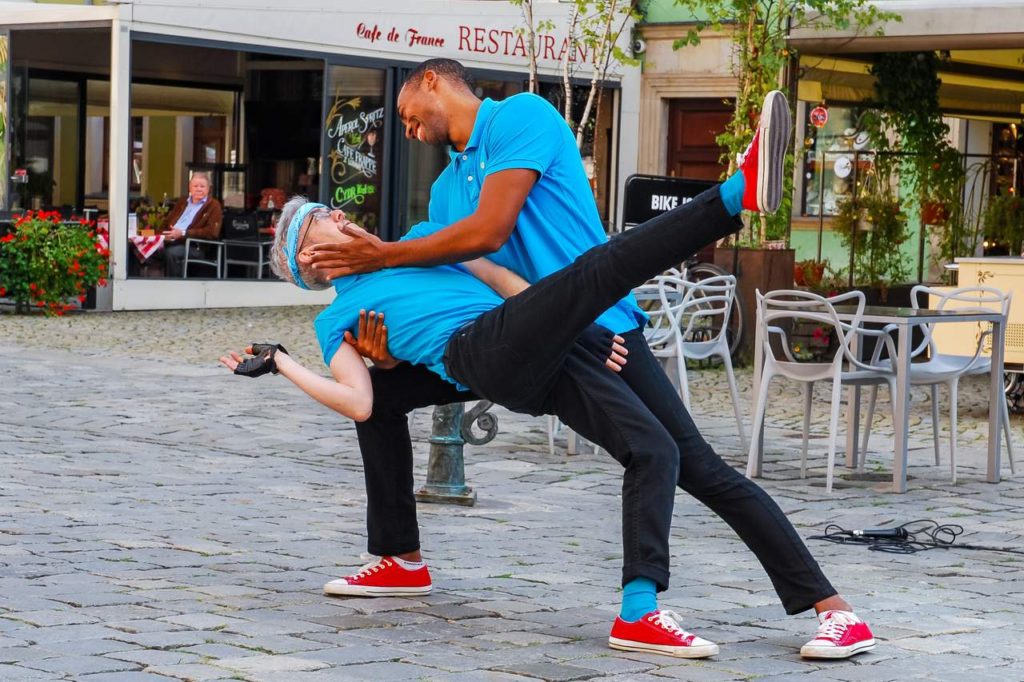 In their street shows, duo Umami Dancetheatre combines comedy, breakdance, contemporary dance, pantomime and theatre. Jérôme and Gustavo are also constantly developing in other areas. Learn what they do when they are not dancing and why they believe that getting to know yourself is the first step of becoming a good busker.
When you know yourself, your limits, what you are capable of, and understand the rules, not being able to build a crowd doesn't affect you. You know that every day is different: one day you have a big audience, but the next day nobody stops, and it doesn't matter. You don't feel burned out because you are aware that sometimes it's better to take a break, leave a pitch and come back when you feel better. It shouldn't change how you feel about yourself.

Jérôme Leperlier
What is your background? Did you go to art schools?
Gustavo: I studied computing, web and graphic design. Everything I know about art I learnt by myself and by working with other artists.
Jérôme: I studied Spanish philology at the University of Saint-Denis (Reunion Island). I have never been to any art schools. I've been learning alone, doing street shows and watching a lot of performances.
How did you meet?
Gustavo: We met in a breakdance competition in Spain, Jérôme was competing, and I was the host.
Jérôme: It was in Salamanca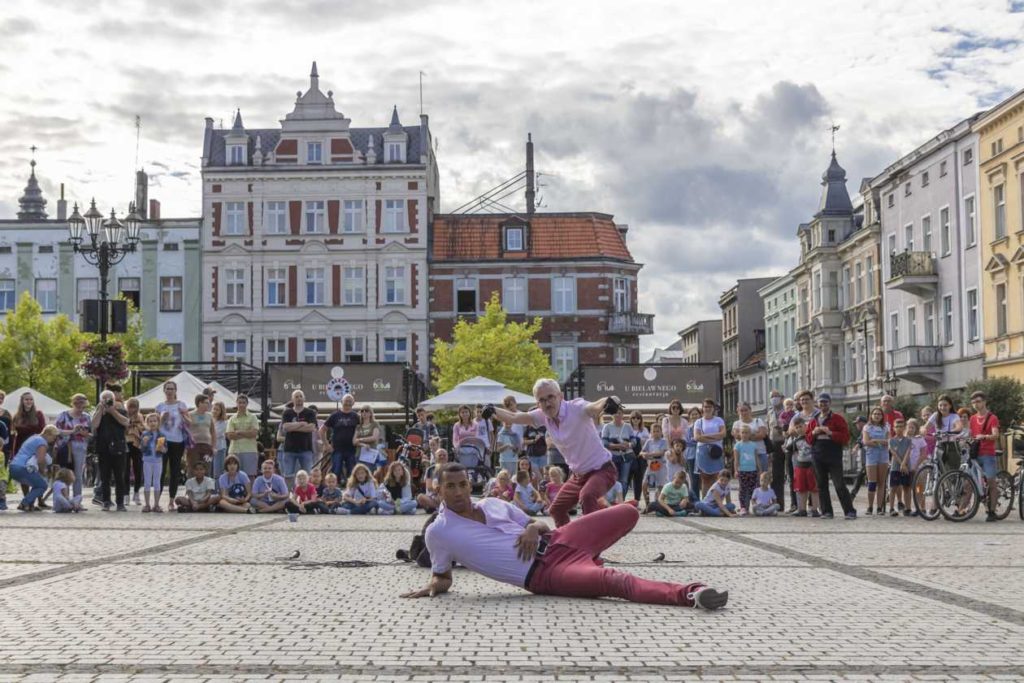 Finding vocation in busking
What made you perform on the street for the first time? What was your first impression?
Gustavo: The need for money. It was love at first sight.
Jérôme: A friend of mine told me about busking, and I decided to give it a try. I lived in Madrid, and I wanted to improve my Spanish. It was something different, and I enjoyed being in front of the audience. It wasn't a bad experience; it was a perfect one. I started doing street shows alone before I met Gustavo.
What busking means to you?
I came to Earth to help others, and it is my best way to do it. I found my vocation in busking.

Gustavo Hoyos
Jérôme: Busking is a way to release my tensions, spreading love and kindness.
Do you still busk, or do you perform only at the street festivals and gigs?
Jérôme: We perform only at street festivals and gigs because busking is difficult in Spain.
What is the busking scene in Madrid and Marseille like? Are there any street performers in Reunion Island?
Jérôme: In Madrid, some artists still perform on the street. Here, in Marseille, some musicians and acrobats perform on Saturday on the main square; however, there are not many.
In Madrid, with the covid restrictions, it's hard to perform, but some buskers do the shows in El Retiro Park or Madrid Río, maintaining social distance. But one thing never changes, and it's about the amplifiers: in the main square of Madrid, you can't use music.
Marseille is a little bit different in Le Vieux Port, where some artists perform on Saturday and Sunday, and it's packed with people. You can see acrobats, musicians and dancers. There are no regulations regarding performing in the street.
I've realised I receive male dance groups' applications, but I think I haven't seen any from female breakdancers. Do you know any female dancers who are also street performers and deserve a shout out?
Jérôme: I met a female group in Glastonbury, they were fantastic! I don't know if they still perform, but I can contact them on Facebook. They are from Bristol.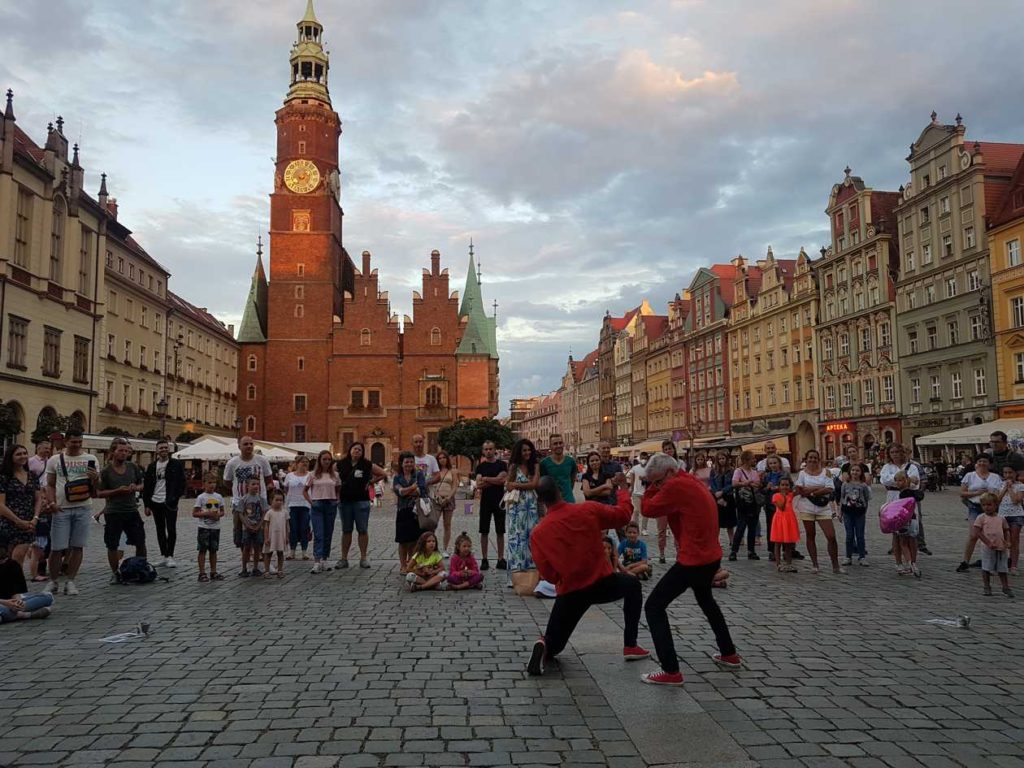 Prepare yourself mentally
How would you describe a good busker?
Gustavo: A good busker must be original, creative, brave, sweet, mentally strong, charismatic and empathic.
Jérôme: I agree with Gustavo, and I would add: the ability to adapt yourself
When I saw you for the first time, I realised what building a crowd means. I was sending a video of your show to some buskers to tell them "this is how you make the people stop". What are your methods and tips for street artists?
Gustavo: First of all, you really need to believe in what you do, and then wake the curiosity up to the people with your techniques. You need to know yourself well first.
Look at yourself as the third person, and ask yourself three basic questions: "who am I?", "what do I want?", "what's my goal?". It's important to be honest when answering. Sometimes we lie when we respond to these questions. If you are free of anxiety and addictions, you are more clear mentally. Do you think your thoughts are yours? When you want something, do you really want it, or somebody else wants it? Align your thoughts, words and actions.
Jérôme: Let me put it this way: each show is different. You can have a method, but not the same order, because every audience and every square is different, and in general, everything is different.
Before you start, you have to get to know yourself, and then you have to read from your audience's eyes. Eye contact is essential! After that, you can use some typical clown skills or your own skills.
Why do you think understanding yourself is so important in busking?
Jérôme: Understanding yourself is essential because you're not alone on the street, and you cannot predict what might happen and how people will perceive you at a specific time.
If your self-esteem is very low while you are performing, you start to have negative thoughts like that you cannot make people stop. You change your perception of yourself as an artist. And for an artist who doesn't have self-confidence, this feeling is hard to accept. Doing a show with this condition can not only destroy your enthusiasm about performing but also affect your well-being in the long-term. 

Jérôme Leperlier
Contrariwise, when you know yourself, your limits, what you are capable of, and understand the rules, not being able to build a crowd doesn't affect you. You know that every day is different: one day you have a big audience, but the next day nobody stops, and it doesn't matter. You don't feel burned out because you are aware that sometimes it's better to take a break, leave a pitch and come back when you feel better. It shouldn't change how you feel about yourself.
That's why knowing yourself and understanding the rules is so important.
What is your process of working on your shows?
Gustavo: We split the tasks between us. We know each other well, and we choose what we are better at. We usually start with a topic. Sometimes we come with it together, and sometimes we already have some ideas. Once we have a theme, we decide on the different parts of the street show, crowd building, introduction, artistic part, interaction, grande finale, and money speech.
Jérôme creates the dance steps, he is very good at it, but I have to approve them. When it comes to clothes, it's always a mix between what we need and the budget.
The first steps take only a few weeks, but we constantly improve it once we have a show.
What's the milestone when you say: "we are ready to show it to people".
Gustavo: When we do everything perfectly with no mistakes.
Jérôme: After hours of practising the same show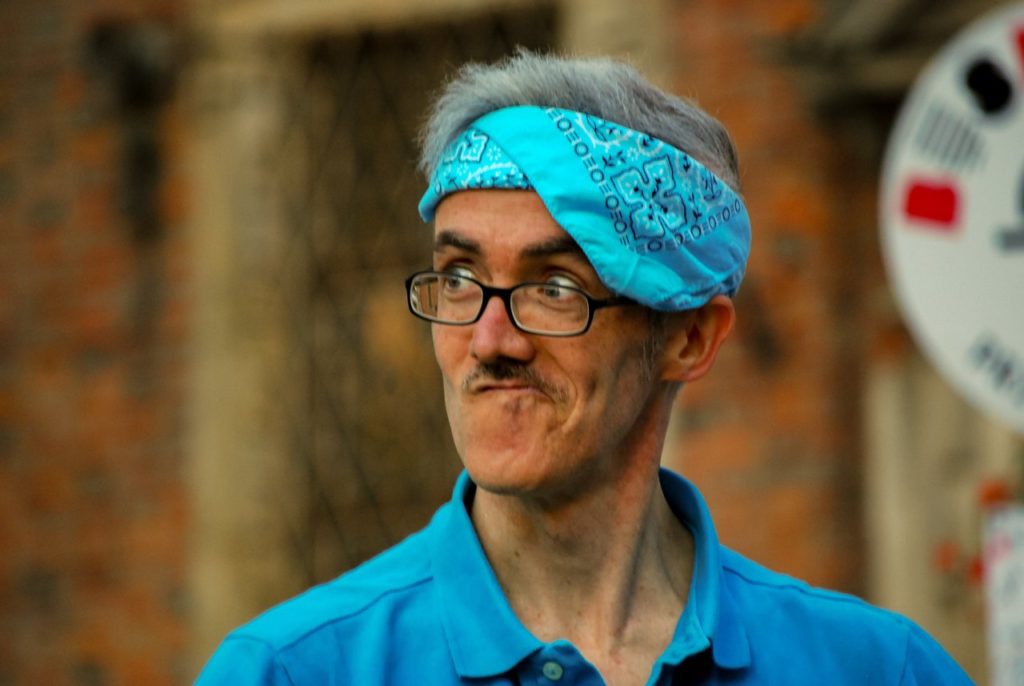 What are your favourite buskers? What shows made you stop on the street?
Gustavo: originality and freshness.
Mute (Thailand),
Umbilical Brothers (though it's not busking),
Wilbur (Spain)
Jérôme: I agree with Gustavo!
Your best busking memory (or place)?
Gustavo: Back in 2011 or 2012, when we started busking in Madrid, one woman came to us after the show. She told us that her husband had passed away two weeks ago, and that day was the first one she laughed since then. At that moment, I understood the power of art.
Jérôme: Gustavo shared the best story ever. And the best place where I performed, was Gallura (Sardinia)
Are there places where you especially like to come back with your shows? Where do you feel at home? And on the opposite side – the most challenging place where you have performed.
Jérôme: So, I think it's easy to guess: BuskerBuuuuuuuuuuuus!
For the moment, I cannot describe any place as the worst.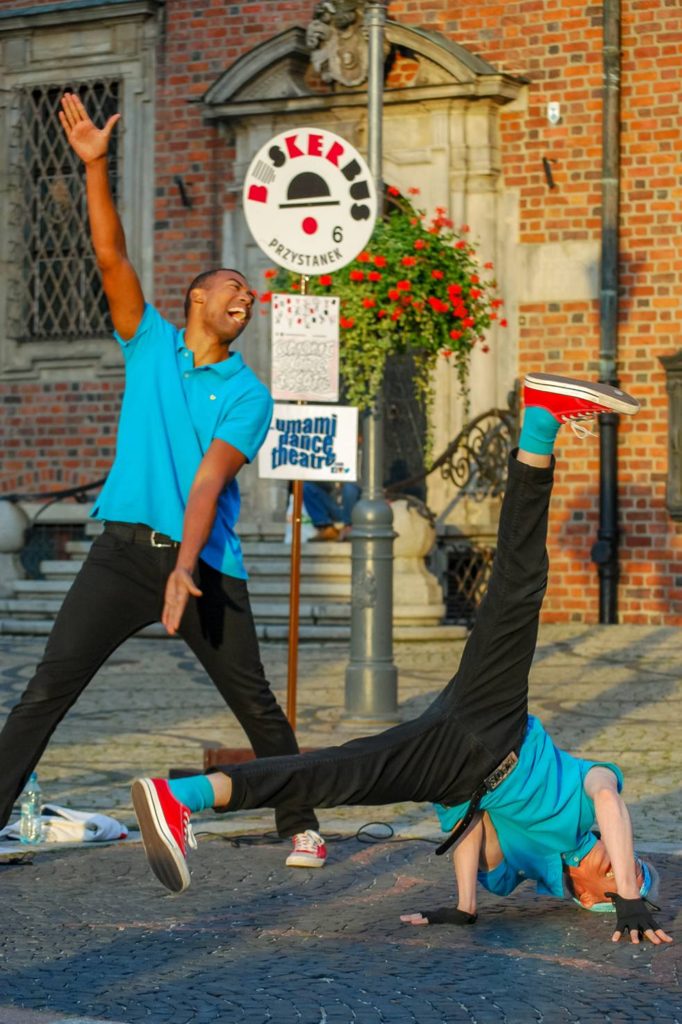 Looking for alternatives
When the pandemic started, you hosted a series of discussions online about performing. Tell me more about it.
Gustavo: performing was the excuse to bring the audience to the stream, but we talked about philosophy and spirituality.
Jérôme: We have a slightly different vision of the world now. Between 2015 and 2017, we changed. We stopped drinking alcohol, and we focused more on our project. It was this moment when everything was perfect in our life.
Our philosophy is that when you do something good with your heart, this thing will happen. If not, first you have to accept it because we can't control the world, and then you can try to find alternatives.

Jérôme Lepierlier
It's been our slogan in the pandemic, and we been helping people understand that if the world doesn't change, we can try to change it on a little scale ourselves (and you did it with BuskerBus in 2020! Congratulations!). We talked about it on our Facebook live.
What do you do when you don't perform as Umami Dancetheatre? Jérôme, thank God there is no character limit on the internet!
Gustavo: I teach dance and street art in Fundación Tomillo, a Spanish foundation that works with youngsters at risk of social isolation.
Jérôme: Well, I'm a French and Spanish teacher. I work in the National Education of Marseille. It is my primary work when I don't perform at festivals with Umami. I'm also a model, and I spend a big part of my time looking for castings. On weekends I often go to the studio to record songs (I have some video clips on YouTube, and you can listen to my music on streaming services). I'm a rapper.
Modelling, music and dance – these three things are part of my life! It's a lot, but if you can manage your time, you can do it! These are also artistic disciplines that I practise at home sometimes.
Jérôme, as you are very active on social media, do your students follow you there? Are you a cool teacher?
Jérôme: Yes, it's easy to find me on social networks. It's strange because on social media, my students are different. They send me messages but always with great respect. And when we have our classes, they don't talk about it because they know the difference between being with me in a classroom and interacting with me on social media. I have never had problems with that. Of course, I'm a great teacher (i think, haha), but we have to be serious when working.
Your favourite songs to dance to when nobody's watching.
Gustavo:
Jérôme :
Gims
Damso
Francis Cabrel
Jean Jacques Goldman
Lefa
Parov Stellar
and the salsa music of course!
What are your plans and goals for the future?
Gustavo: In the short term, create tools to survive in these actual dystopic times. And in the long term, continue creating art to develop a better world.
Jérôme: I'm preparing my EP (it's the reason I moved to Marseille), and I'm attending a lot of castings for publicity, series, and the list goes on.
About Umami Dancetheatre
Umami Dancetheatre is a dance duo consisting of Jérôme "Choco" Leperlier from the Reunion Island and Gustavo "Kaos" Hoyos from Madrid, Spain.
Their shows "Agridulce/Bitter-Sweet" and "Salao" mix comedy, breakdance, contemporary dance, pantomime, and theatre. They have performed at around 200 festivals and small events.
Gustavo's interest in art began in 1993. He has performed as a dancer at various festivals in Spain like "Madrid en Danza", "Red de Teatros de la Comunidad de Madrid", "La otra mirada del Flamenco", and "Los veranos de la Villa". In 2010 he started mixing Bboying with circus disciplines. Gustavo also works as a dance teacher in Madrid, teaching youngsters healthy life habits and other ways to have fun. He is also a host of artistic and sports events. And last but not least, he works occasionally painting using the aerosol (spray can) technique.
Jérôme is a real Renaissance man! Dancing is just one of the many things that he does. For a decade, he has been a fashion model. He has a degree in Spanish philology, and he is a French and Spanish teacher. Another of his passions is rap. He has already recorded 15 songs that you can find on his YouTube channel and various streaming services. Jérôme has recently moved to Marseille to develop his music career.
Gustavo and Jérôme met in September 2011, and they have been performing as a duo since then.
Follow Umami Dancetheatre