Busker Tour is a touring interdisciplinary street festival of performing arts and the New Circus featuring buskers from all over the world.
When programming the festival, artistic director Malgorzata Węglarz focuses on presenting a diversity of street art that gives room for improvisation and experiments. In creating their original shows, buskers have freedom of choice and boldly draw from theatre, dance, acrobatics, juggling and many other fields and disciplines.
There will be puppet theatre, partner acrobatics, magic, circus shows, manipulation of various objects, clownery and live music. The mission of the Busker Tour festival is to promote musicians who play original songs.
The main line-up in Wrocław, Zielona Góra and Krotoszyn features only shows that have not yet been presented in these cities.
To Żary and Józefów we have invited artists we already know and like, but they will perform in these cities for the first time.
Every few days, we introduce more buskers on this website and on our Facebook page.
Busker Tour 2023 dates
16, 18.06.2023 Józefów
12.06.2023 Żary
19-20.08.2023 Krotoszyn
22-23.08.2023 Zielona Góra
25-26.08.2023 Wrocław
Buskers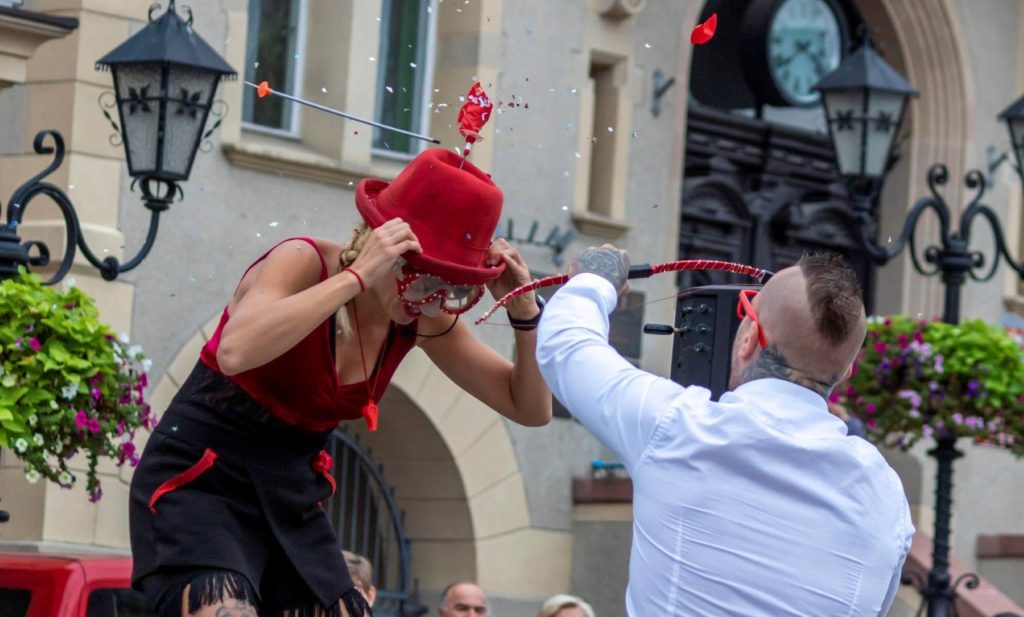 Gaia Ma "Hit My Heart" | Italy | Clownery, hat manipulation
Towns: Józefów 18.06.2023, Żary 11.08.2023
"Hit My Heart" is a comedic, poetic and maybe even a little bit romantic circus show. A bow, an arrow and Gaia Ma catching her balance, flying hats, and dancing on stage. Her heart will be the target of an unknown shooter. Will can hit it?
Gaia Matulli, aka Gaia Ma, is a multidisciplinary artist from Italy. Her first passion was painting, but in 2009 she discovered clownery and decided to follow her path as a performer.
Over the years, she attended various workshops and graduated from Philip Radice's Physical Theater Atelier in Turin. She took courses in theatre, acrobatics, diction, text study, voice, stage fighting, contemporary dance, tip-tap, manipulation of objects, and contemporary dance. Gaia is also a self-taught juggler. Since 2010 she has focused on the manipulation of hats. In Barcelona, she studied contemporary dance and attended the Swing Cats school where she studied charleston, tip-tap and body percussion.
An interview with Gaia Ma: making people laugh is a serious task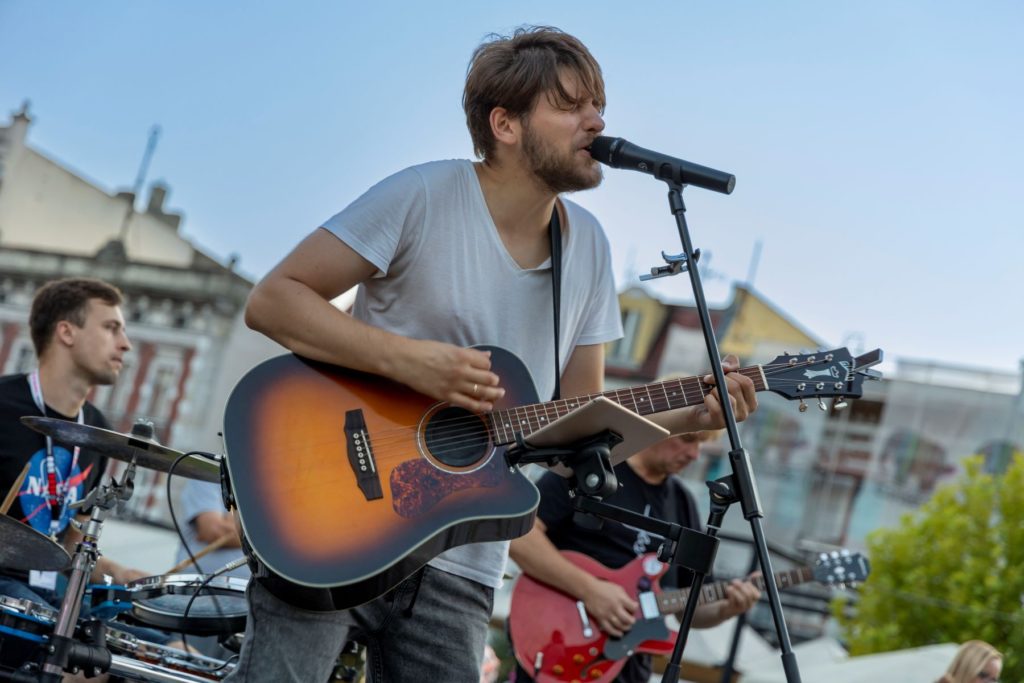 Justin 3 "Lullabies from Space" | Lithuania | music
Miasto: Józefów 18.06.2023
Justin 3 is a music band from Lithuania that combines acoustic pop and rock music with electronic sounds. Its founder is a guitarist, singer, songwriter and actor Justinas Stanislovaitis.
The group has released studio albums "Illusion", "Lullabies from Space" and numerous singles.
Through their original songs, they want to share uplifting messages and bring comfort when times are hard.
In Józefów they will perform as a 3-member band: Justinas Stanislovaitis (vocals, guitar), Augustinas Skeberdis (saxophone), Salvijus Žeimys (drums).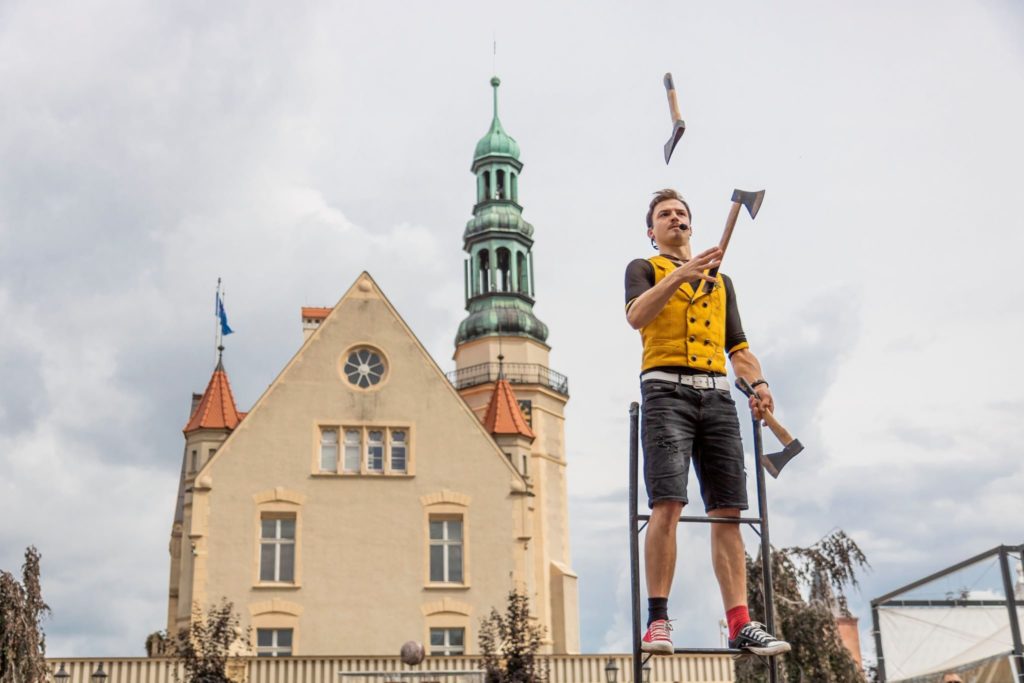 Krzysztof Kostera "Dangerous things" | Poland | Circus: free-ladder, juggling
Town: Józefów 18.06.2023
"Dangerous Things" is a street show performed by Krzysztof Kostera – a double graduate of the Circus School in Julinek.
True to its title, the show is filled with circus acts requiring high technical skills. Krzysztof juggles with five machetes, and axes, performs his signature stunts on a free ladder and rides a unicycle. All this with a humorous twist and audience participation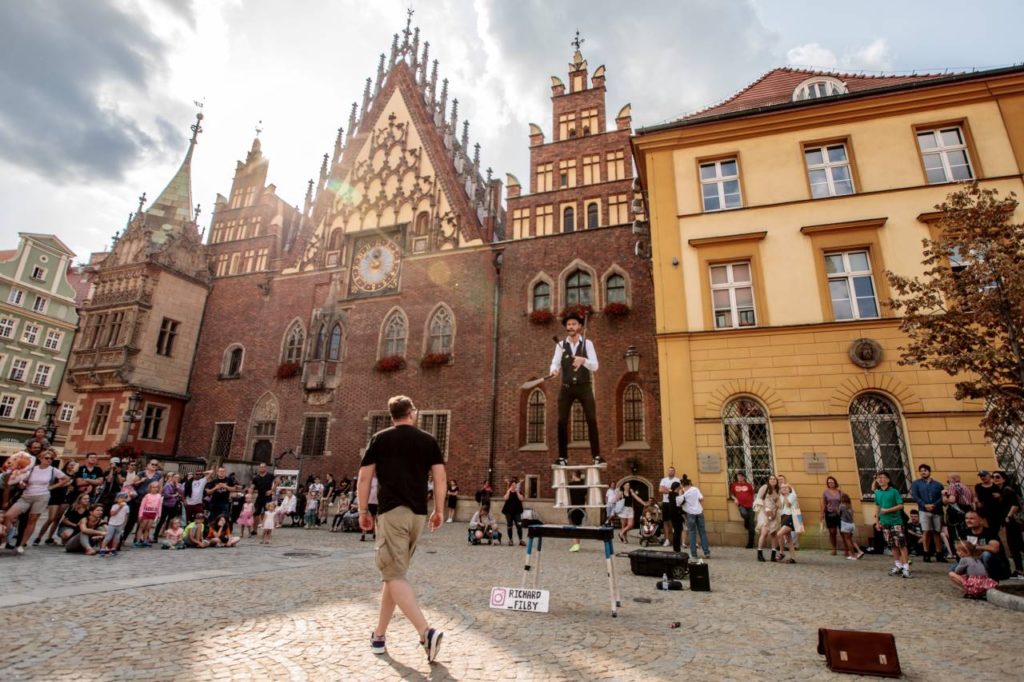 Richard Filby "Richard Filby Spectacule" | Australia | Rola bola, juggling
Towns: Józefów 18.06.2023, Żary 11.08.2023
"Richard Filby Spectacule" is a circus and comedy show combining juggling, equilibristic and audience participation.
Although Richard is a man of many talents who constantly adds new circus tricks to his repertoire, he believes that the main attraction of his show is his charm combined with Australian wit.
Juggling while balancing comes as naturally to him as public speaking, so he usually does it all on top of his rola bola.
Richard always relishes the opportunity of dressing up in a suit and a hat and entertaining a new crowd. Tested in the streets, pubs and theatres, Melbourne sun and London rain, "Richard Filby Spectacule" can be performed everywhere at any time of the year.
Originally from Australia, now London-based, Richard Filby is a circus performer and comedian. In his shows, he combines high-level juggling with knives and balls, balancing on rola bola, and fire tricks.
Krotoszyn, Wrocław, Zielona Góra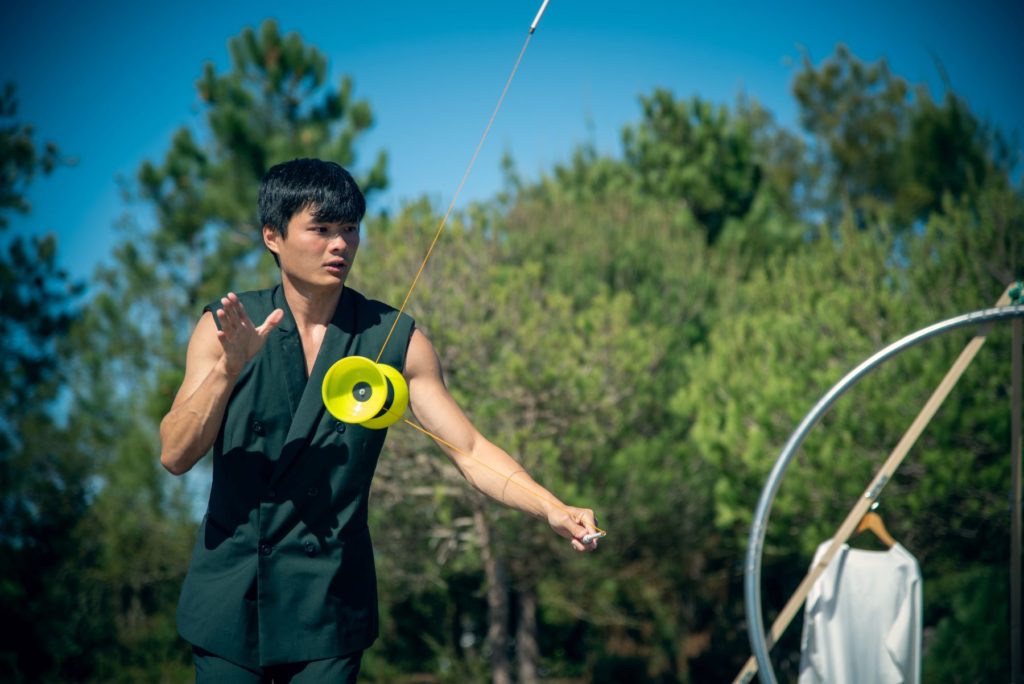 Alvin Yong "Soul to Show" | Malaysia | Circus, diabolo, Cyr wheel
Towns: Krotoszyn (19-20.08), Zielona Góra (22-23.08), Wrocław (25-26.08)
Alvin Yong Kin Hoe is a Malaysian circus artist. His circus journey began with a dream of becoming a diabolo performer and travelling the world. He gained his first experience as a busker in Taiwan, followed by professional training at INAC – a circus school in Portugal.
"The stage is the place for exploring the human soul." – unknown.
"Soul to Show" is a story-telling act that included circus movements and life reflections, based on Alvin's journey as an artist. From sharing his enthusiasm towards Diabolo to his discovery of the artistic world through the Cyr Wheel. The story behind Soul to Show is to search for the "lights" that connect Alvin and his apparatus, called "Cahaya" in Malay.
It will be the first time for Alvin Yong to perform in Poland.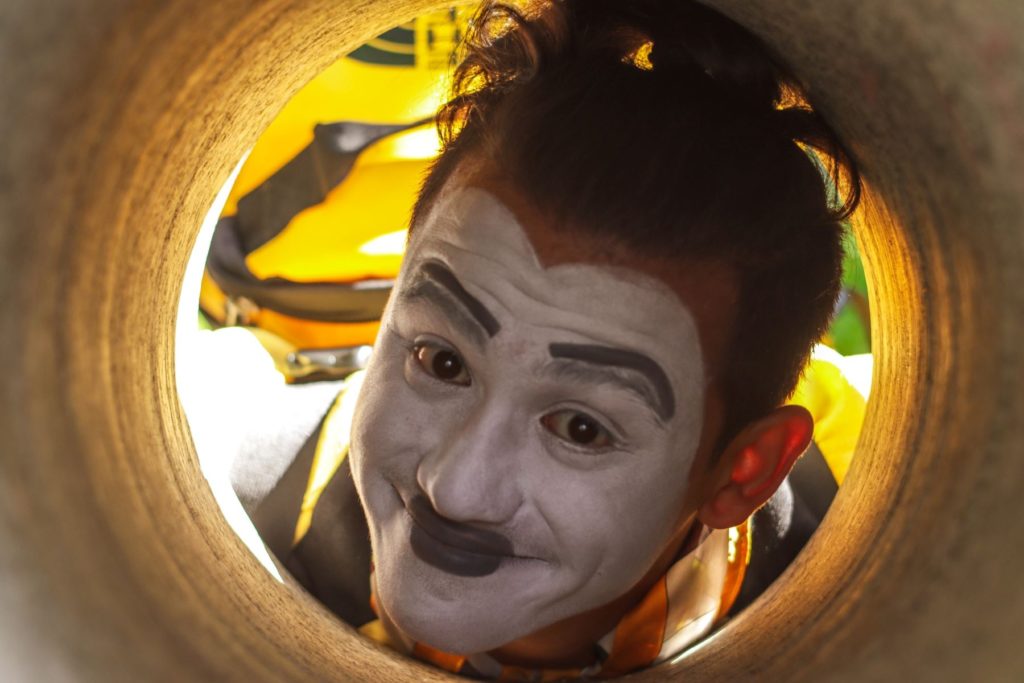 Cescoartist "Ridi che ti fa bene" | Italy | Clownery
Towns: Krotoszyn (19-20.08), Zielona Góra (22-23.08), Wrocław (25-26.08)
Francesco Laganara is an Italian-Thai born in Bari, Italy. He was first introduced to magic at the age of 10 and got so dedicated to mastering his skills that by the age of 15, he already worked at his first events. In high school, he joined a school theatre and got interested in performing arts. He has been performing on the street since he was 18, combining magic, pantomime and clownery.
He loves busking in Italy, as he finds an audience there crazy. Currently, he is based in Zurich, where, as he says: "People are more shy, but if you love what you do, everything goes well". People often forget to smile, but the show "Ridi che ti fa bene" is a reminder of the importance of letting go sometimes.
Cesco posts videos of his clown gags on TikTok where he has gained over 1 million followers.
Cesco will perform in Poland for the first time.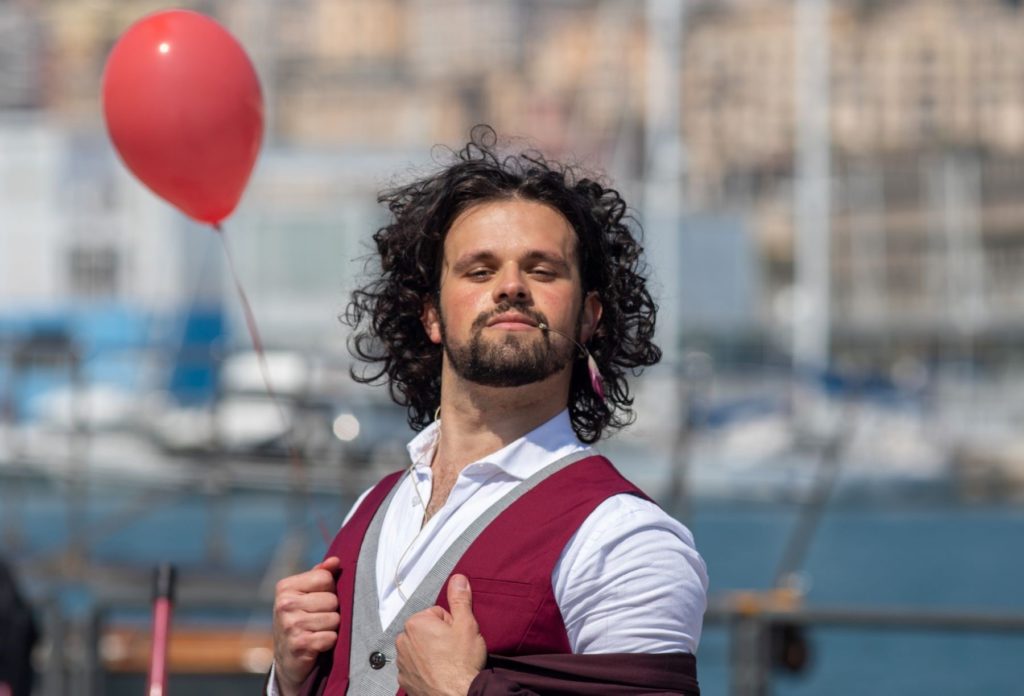 Daigoro "Voilà – Magic without tricks" | Italy | Magic
Towns: Krotoszyn (19-20.08), Zielona Góra (22-23.08), Wrocław (25-26.08)
Daigoro is a 24-year-old performer from Torino, Italy. He's been performing on the street since he was 18.
"Voilà – Magic without tricks", is a show in which illusionist routines are just a pretext to build a bond with the audience.

This will be the first time for Daigoro to perform in Poland.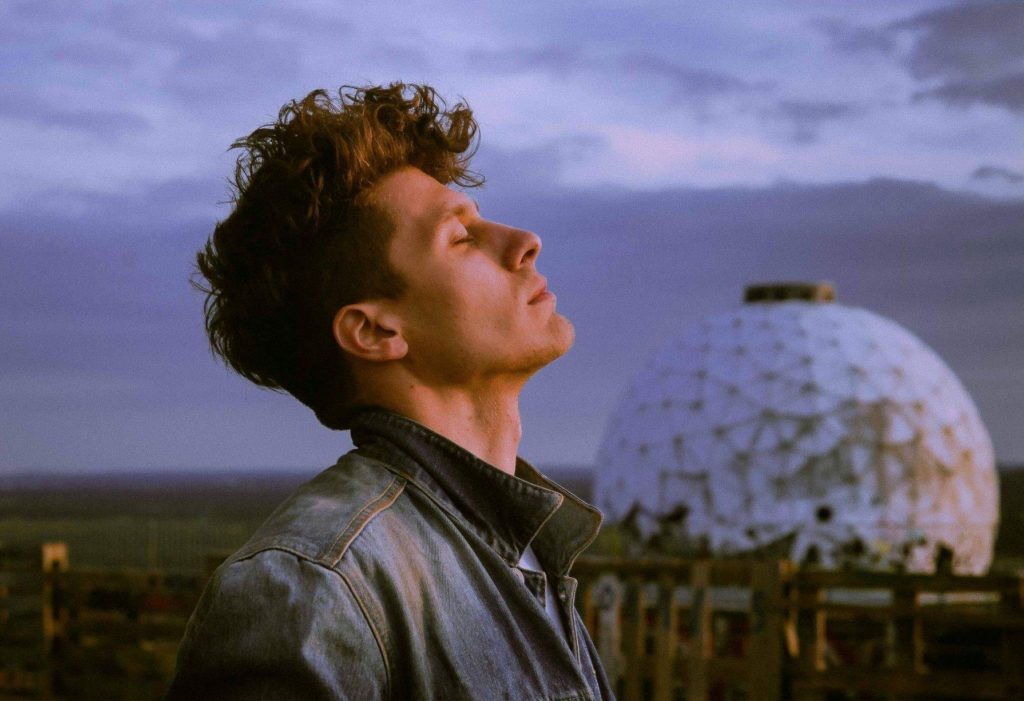 DEANisHOME | "DEANisHOME show" | Bulgaria | Music
Towns: Krotoszyn (19-20.08), Zielona Góra (22-23.08), Wrocław (25-26.08)

Dean is a 30-year-old multi-instrumentalist, songwriter and singer. His musical journey started in a small mountain city, Vratza in Bulgaria when he joined is first punk band as a bass player. Since then, he participated in various projects and graduated with a Bachelor's in sound engineering and drums.
Dean moved to Berlin five years ago, and he has been a full-time busker since then. He believes that musicians should produce their own music and don't be afraid to share what they create. Following his approach, he has released 21 albums in different genres: Indie, Alternative, Rock, LoFi hip-hop, Acoustic, Waltz & electronic.
Currently, as DEANisHOME, he makes a high-energy one-man show using a looper, drum pads, guitar & vocal. It sounds like a whole Rock'n'Roll band is playing in front of you, but it's only one man from the streets of Berlin.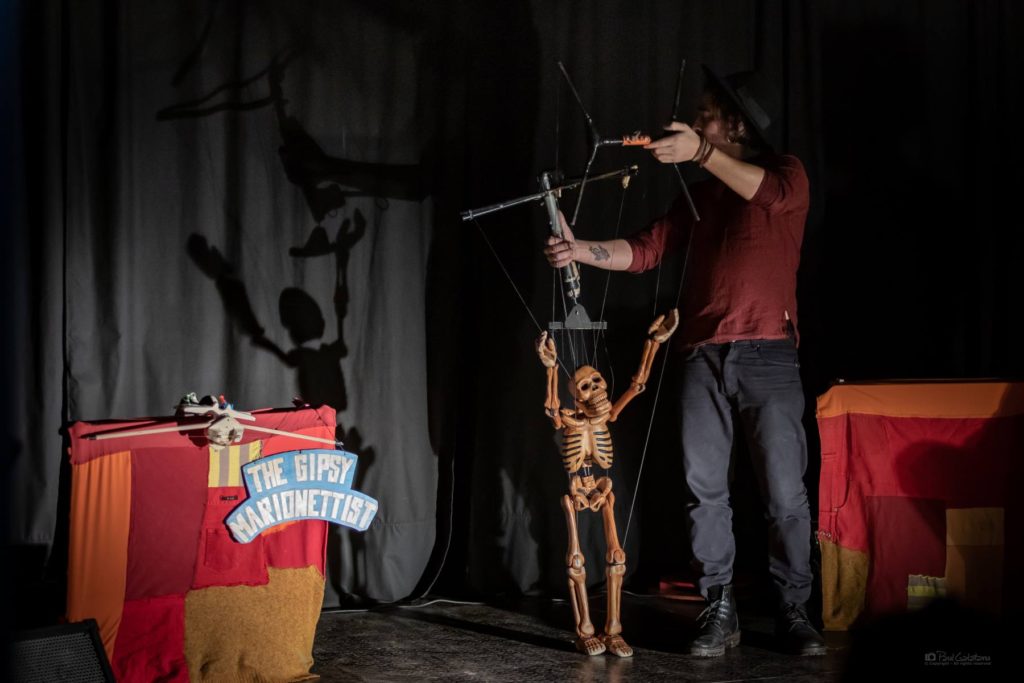 The Gipsy Marionettist "The Gipsy Marionettist" | Rom from Bosnia, now based in Italy | Puppet Theatre
Towns: Krotoszyn (19-20.08), Zielona Góra (22-23.08), Wrocław (25-26.08)
Rasid Nikolic was born in 1989 in former Yugoslavia, just after the fall of the Berlin Wall and before the Balcan conflict. To escape the war, his family moved to Italy. They are Roma, better known as Gypsies.
Rasid's childhood and origin influenced his work. He chose "The Gipsy Marionettist" as his stage name, and he uses his show as an opportunity to explain Roma and Balcan culture. He believes that marionettes have a primitive and mystical power as a form of exorcism, able to touch the deepest fear and human soul.
Every marionette is inspired by his family members. A pawing and fiery Skeleton, a ravenous and sweet Tiger, a mysterious Belly dancer with an oriental flavour and more. Learn about their daring journey from Yugoslavia to Italy and how their family relationships were resolved string by string.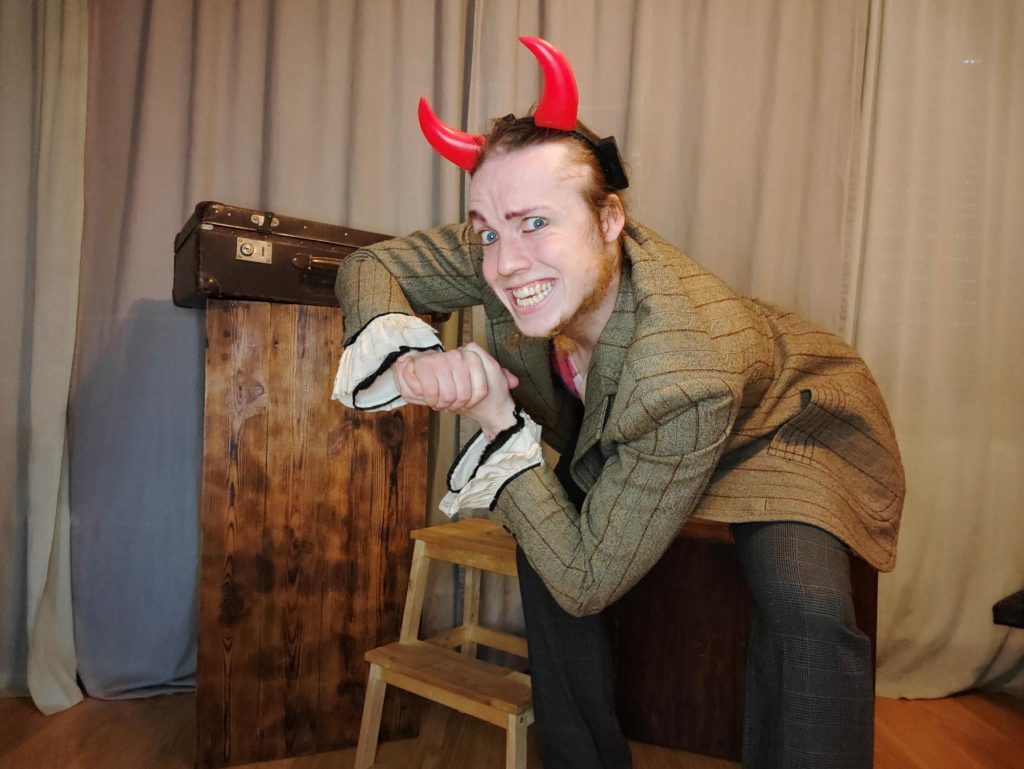 Jasiek | "Balwierz SPA" | Poland | Clownery
Towns: Krotoszyn (19-20.08), Zielona Góra (22-23.08), Wrocław (25-26.08)
"Balwierz SPA" is a street show that creates a parody of beauty treatments and amazing metamorphoses. A tricycle is equipped with everything needed to meet your requirements. Beauty and hairdressing services are available on the street. All in the atmosphere of the communist times.
Jasiek Grządziela is passionate about clowning, circus and the broadly defined theatre of movement. He has performed with the Pinezka Theatre. In 2013 he founded his own solo theatre under the name "JaSię Theatre", for which he created and continues to develop the character of the green clown he plays. He actively participates in the theatrical life not only of Wrocław, but also of Poland. He has performed in dance theatre productions, among others: "Kantor: Tropy Collage", "Sideways rain", "Spectres", "Cage of tears".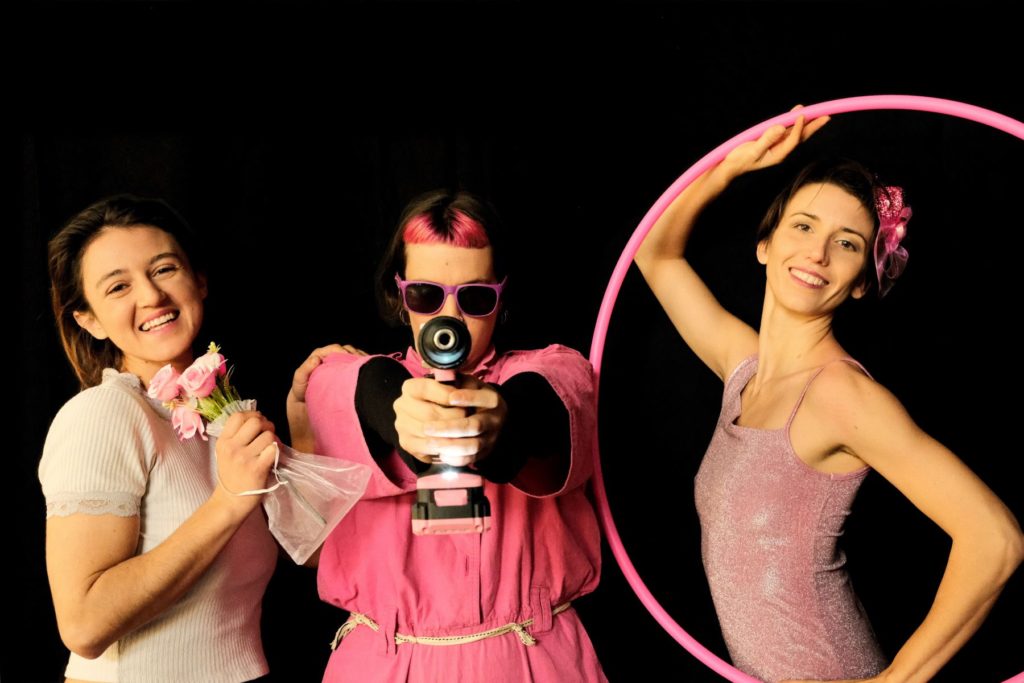 Le Vamp "Pink Punk" | Italy, Ecuador | Hula hop, contortion, acrobatics
Towns: Krotoszyn (19-20.08), Zielona Góra (22-23.08), Wrocław (25-26.08)
Le Vamp is a circus trio consisting of roucyr-er Valeria from Turin, hoola-hooper and contortionist Morgana from Bologna, Italy and verticalist Anaflavia from Ecuador.
Pink Punk is a pink world of dolls, drills and broken hearts. An ironic and irreverent show, a bit punk and deliberately provocative. The three performers on stage play with the stereotypes of the female world, taking them on, exaggerating them and… turning them upside down!
Verticals, hula-hoops, contortion, portes, and rou cyr, and a lot of irony are the ingredients of this show created in 2022.
Le Vamp will perform in Poland for the first time.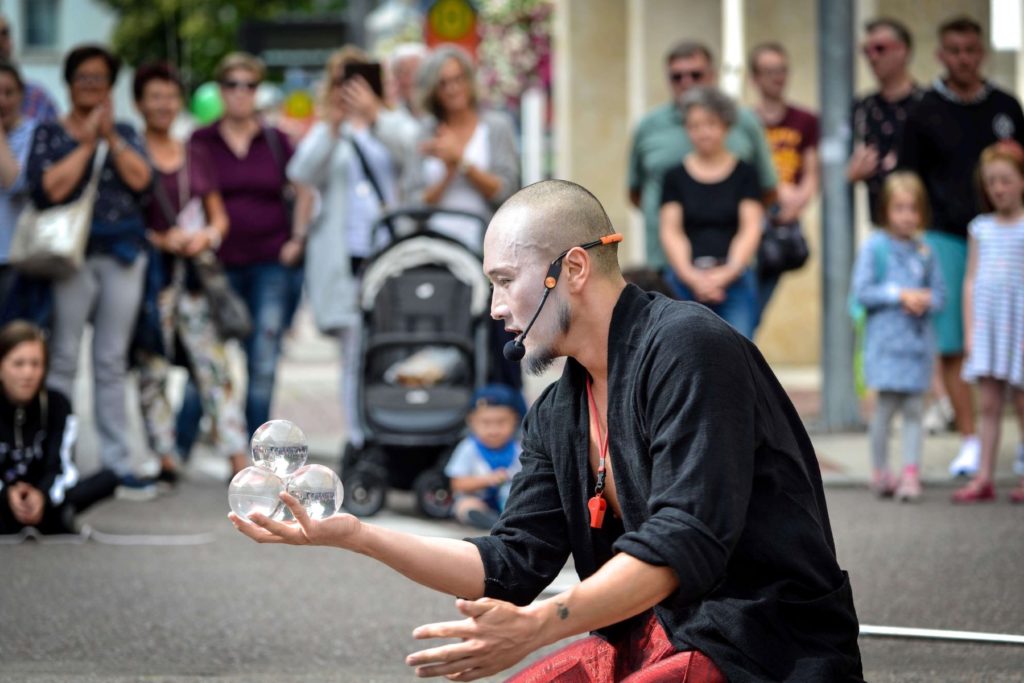 Performer Monk "Nirvana Show" | Japan | Juggling, ladder
Towns: Krotoszyn (19-20.08), Zielona Góra (22-23.08), Wrocław (25-26.08)
The teaching of Karma is an energetic show with elements of juggling, comedy and magic.
Originally from Japan, MONK humorously explains the law of Karma while showing off his circus skills. MONK strives to find the truth by achieving his ultimate goal – nirvana.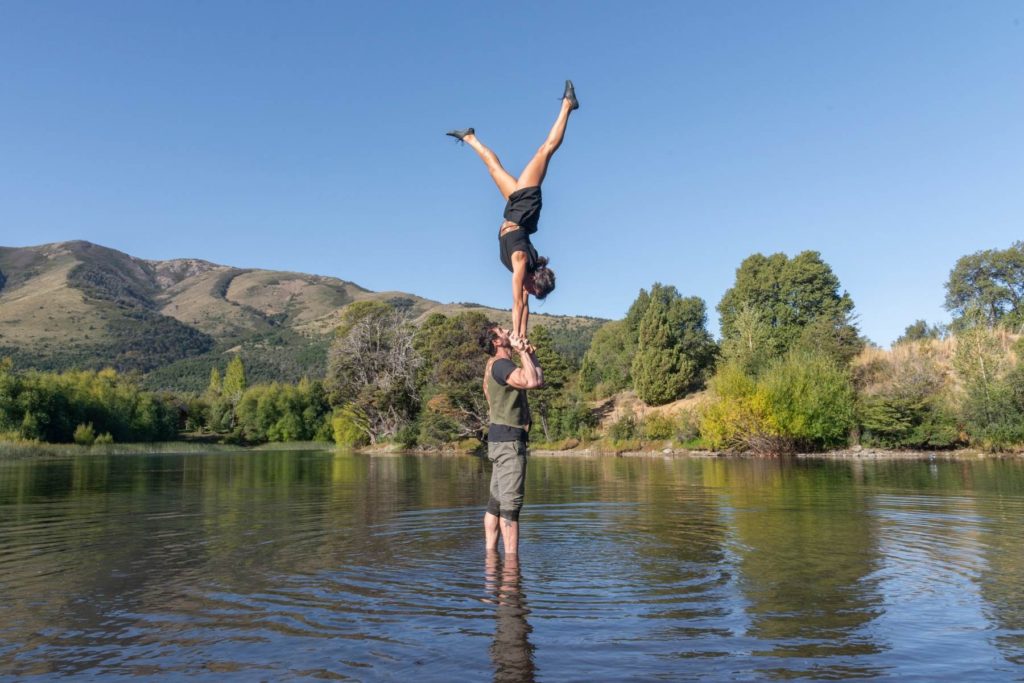 Cia Patagonia "Whole Trip" | Argentina | Hand to hand acrobatics
Towns: Krotoszyn (19-20.08), Zielona Góra (22-23.08), Wrocław (25-26.08)
Duo Patagonia is an Argentine company formed in 2020 that combines several disciplines including contemporary circus, dance and music.
"A Whole Trip"
Two travellers are lost and must arrive at their destination before dusk. They are distracted by lakes, mountains and endless deserts. They must share the same space and work together to find the right route. Their journey filled with dance and acrobatics will bring many adventures, arguments and laughter. Will they be able to reach their destination together?
This will be the first time for Duo Patagonia to perform in Poland.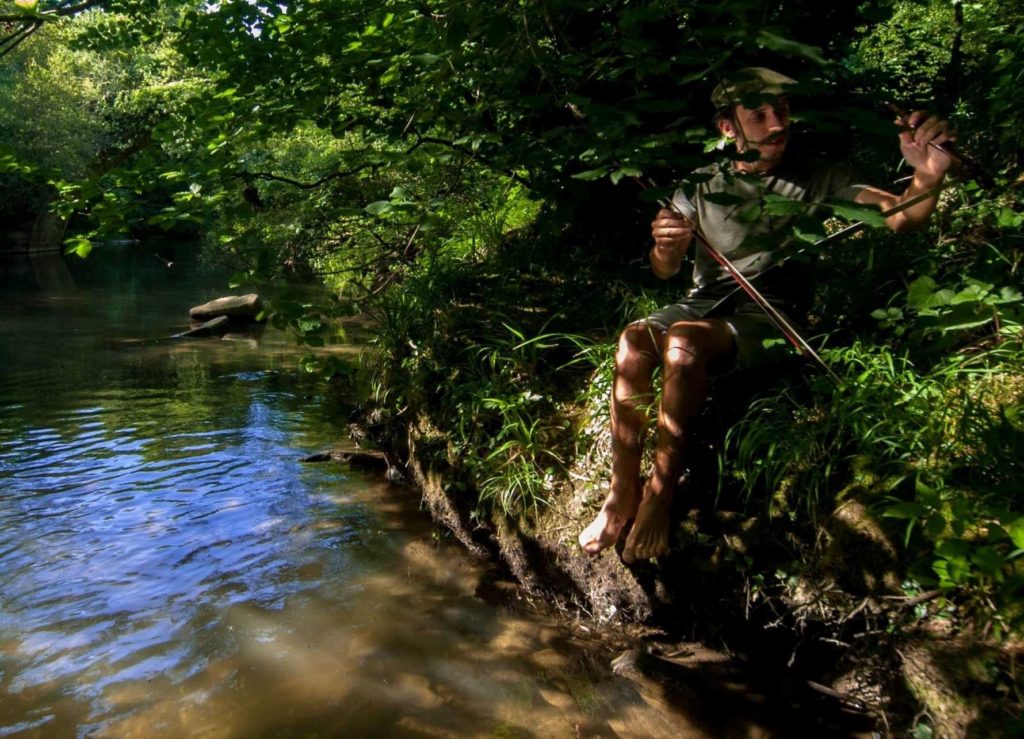 Proyecto LupA "Tierra y Las Vias" | Argentina | Music
Towns: Krotoszyn (19-20.08), Zielona Góra (22-23.08), Wrocław (25-26.08)
Proyecto LupA was born in Buenos Aires, Argentina. He began his music education at the age of 11 at the Alberto Ginastera Conservatory in Buenos Aires, specializing in piano. He also studied guitar. Later he entered the world of the circus, focusing on contact juggling and clownery. He also completed two years of acting training in Barcelona.
His first album "Tierra y las Vías" was inspired by the ""croto"" movement in Argentina at the beginning of the 20th century. It seeks, through music, to evoke landscapes, characters and stories of the time.
Proyecto LupA is composing live based on a fixed structure using the Loop Station, which, combining with instruments such as guitar, synthesizer, nord drum, charango, accordion, musical saw, etc., allows moments of improvisation and experimentation, and creating different sound layers.
His musical show aims to be a journey through different styles, sounds, climates and emotions. It fuses electronic and classical instruments, and different musical styles, such as rock, flamenco, Argentine folklore, Andean music, and electronic music, to name a few.
This will be the first time for Proyecto LupA to perform in Poland.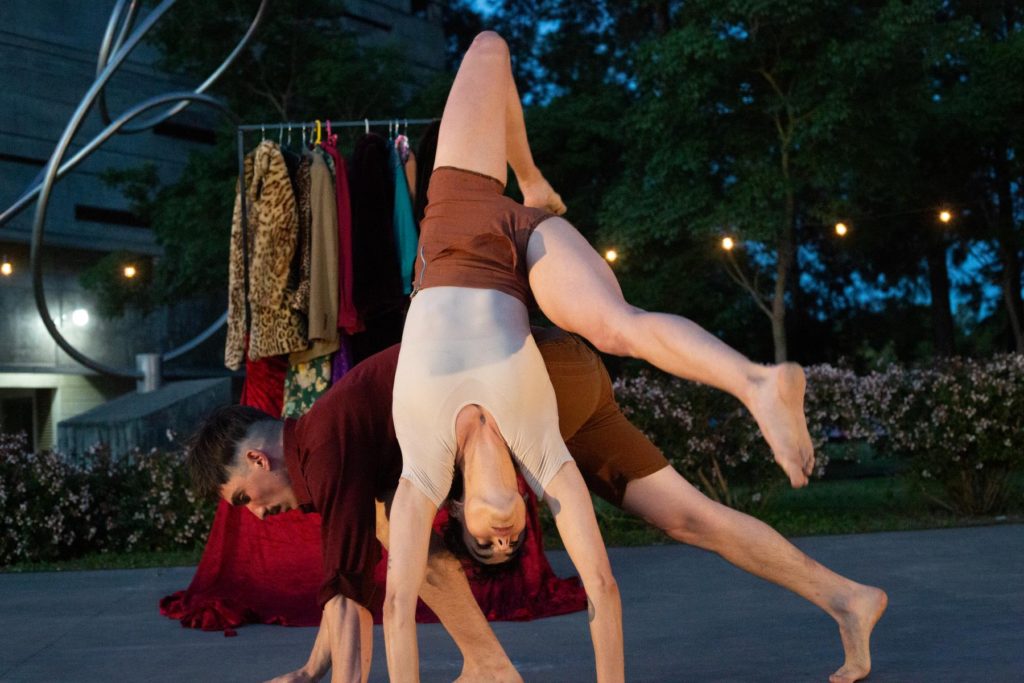 Rumba "Receptáculo" | Argentina | Partner acrobatics
Towns: Krotoszyn (19-20.08), Zielona Góra (22-23.08), Wrocław (25-26.08)
Rumba is a circus duo founded in 2019 by Juan Cruz Ranieri and Luciana Denino, performing arts graduates specializing in circus performance at the National University of San Martin (UNSAM, Argentina).
In their performance "Receptáculo": they combine theater and dance with circus techniques: partner acrobatics and manipulation of objects such as diabolo.
Meet two acrobats whose fates intertwine in unusual situations. Their bodies undergo metamorphosis and allow them to incarnate into different characters.
Receptáculo is a combination of high circus technical skills, physical theater and absurdity.
Rumba will perform in Poland for the first time.
Sammy Showtime "Sammy Showtime" | Australia | Magic
Towns: Krotoszyn (19-20.08), Zielona Góra (22-23.08), Wrocław (25-26.08)
Comedy magician, Sam King, began his journey in the art of street performance in the rugged terrain of Adelaide, South Australia. He honed his skills as a street magician and card thrower, eventually bringing his distinct brand of humour and magic, known as "Sammy Showtime," to audiences around the globe. Sam is constantly pushing the boundaries of traditional illusions, creating performances that are truly his own.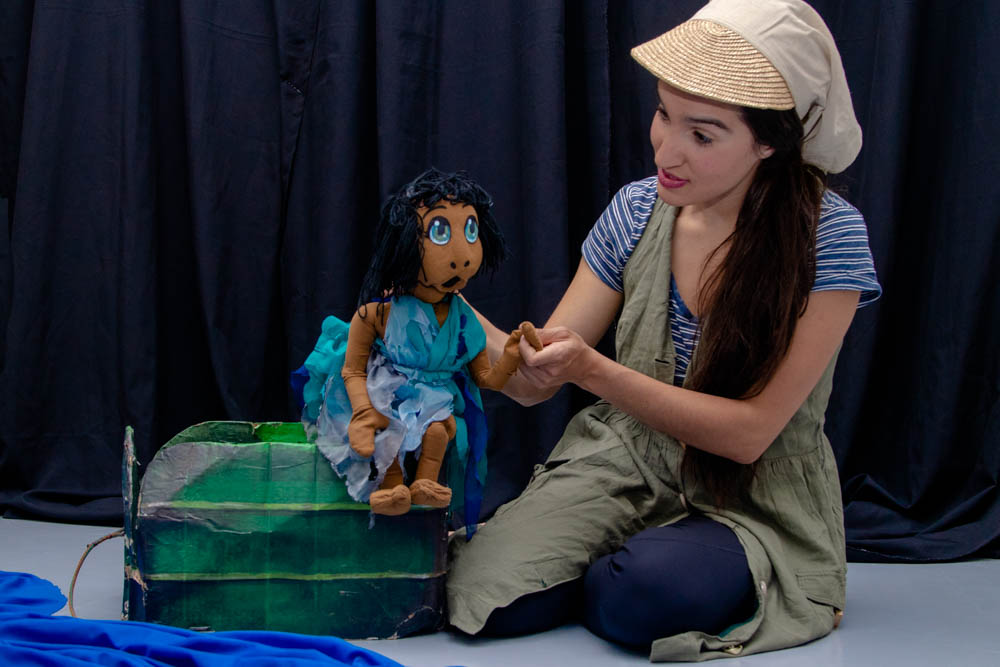 Vanina Garaventa "Mareas Profundas" (Deep Tides) | Argentina | Puppetry
Towns: Krotoszyn (19-20.08), Zielona Góra (22-23.08), Wrocław (25-26.08)
Vanina Garaventa is an actress, puppeteer, playwriter and theatre teacher from Argentina. She graduated the Escuela Metropolitana de Arte Dramático and the Espacio Crearte school (both in Bueanos Aires). She's been performing on the streets, theatreas and schools in differents plays, and since Jun 2021 she has been touring Latin America with two shows: "Busqueda" and "Mareas Profundas".
Vanina is also an activist in the search for missing personas.
"Mareas Profundas" is a puppet theatre show written and performed by Vanina and directed by Carolina Erlich. Main character Camila is a girl and also a sea lion, but an evil being tricked her and stole her sea lion skin. Now it's time to get it back. Will you join her?
Vanina will perform in Poland for the first time.